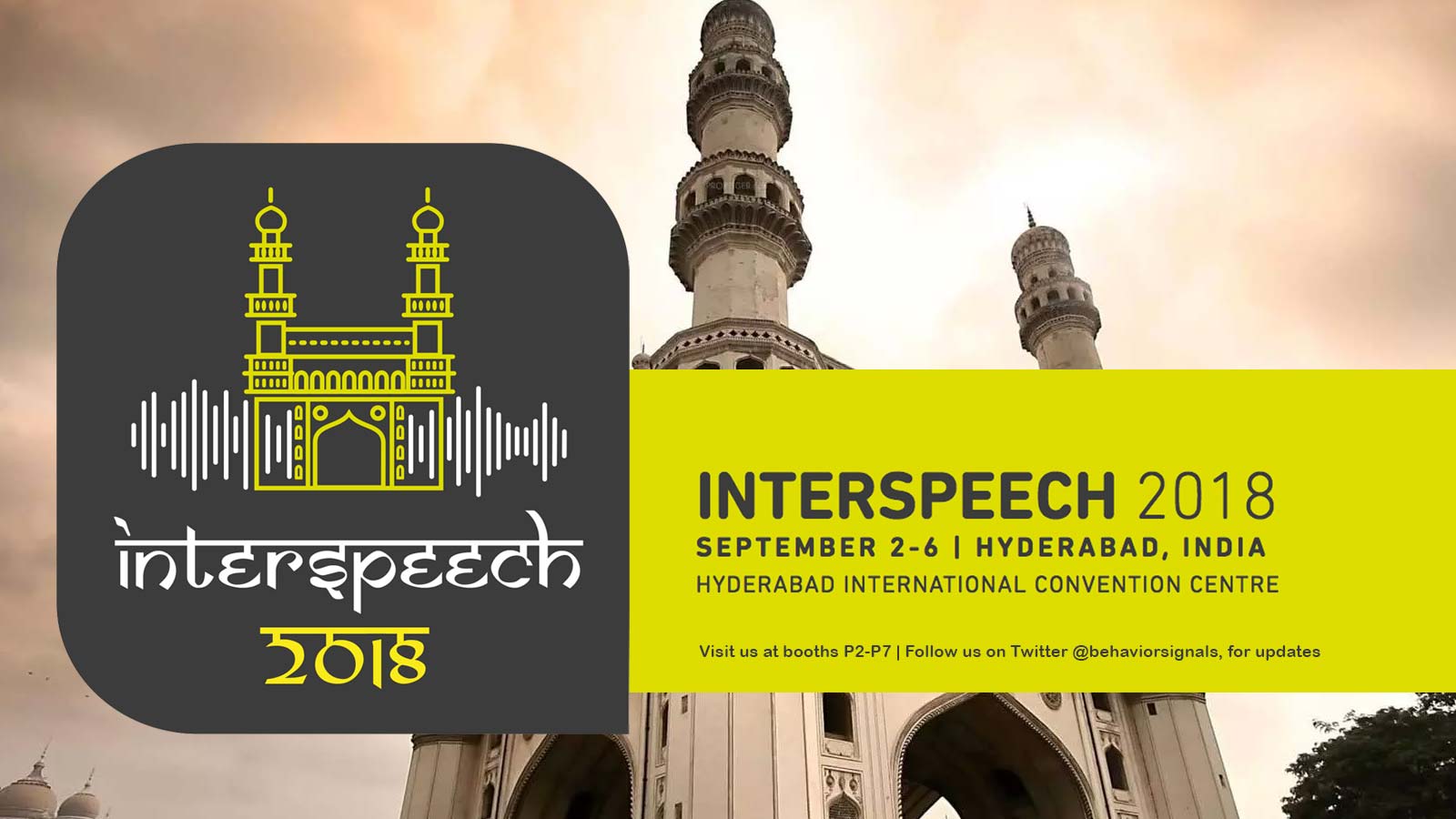 Want to learn how our conversational AI platform can enhance service interactions for intelligent virtual assistants, robots, and chatbots? We're excited to announce that Behavioral Signals' team will be present at this year's Interspeech conference with a booth. Interspeech is the world's largest and most comprehensive conference on the science and technology of spoken language processing.
When is Interspeech?
This year's Interspeech will be organized on September 2-6, 2018 in Hyderabad, the capital city of Telangana state in India. The venue is the Hyderabad International Convention Centre (HICC).
During the Interspeech conferences, interdisciplinary approaches, ranging from basic theories to advanced applications, are presented covering all aspects of speech science and technology. In addition, Interspeech 2018 will feature plenary talks by internationally renowned experts and exhibits.
The Interspeech conference is the best place to learn and connect with the industry leaders of speech science and we are excited to be part of it!
Why are we going to attend Interspeech 2018?
We are always looking forward to networking with fellow professionals and expand our knowledge on what we love doing. Even more, we will have the opportunity to showcase our award-winning emotion recognition and behavioral prediction analytics technology. In other words, we will show how utilizing cognitive modeling and advanced machine learning algorithms, we bridge the gap between humans and machines.
In particular, our technology analyzes human behavior from voice-data, providing enriched conversational insights for interaction with voice assistants, chatbots, robotic virtual assistants, social healthcare robotics and mobile voice assistants. We understand not only what is being said but how it is being said, the emotions, intentions, state-of-mind and behaviors of each person.
In that way, we bring emotional intelligence to machines as we enable them to understand how humans feel and behave. Technically this translates into human-to-machine conversational AI having meaningful interactions, making the experience feel like chatting with a friend or someone who really understands you and responds appropriately.
At this year's Interspeech, we are introducing Quentin Furhatino, a Furhat Robotics conversational AI robot, adapted by Behavioral Signals to capture emotional cues in speech. During the Interspeech 2018, he will demonstrate his ability to capture and measure excitement, aggressiveness, confidence, vocal variety and several more factors in speech that show emotion and intent.

We are pioneering the first emotionally intelligent conversational AI solution on the market.
Come and say Hi!
Be sure to stop by our booths, P2 and P7, for an interview with Quentin Furhatino. We would love to meet with you to discuss how our ground-breaking conversational AI technology can pave the way for a new wave of innovative business opportunities.
Want to discover more about Interspeech 2018? Check out Interspeech's website and start planning your trip!
Follow our Twitter and Facebook page to get a look at our booth and our activities onsite.