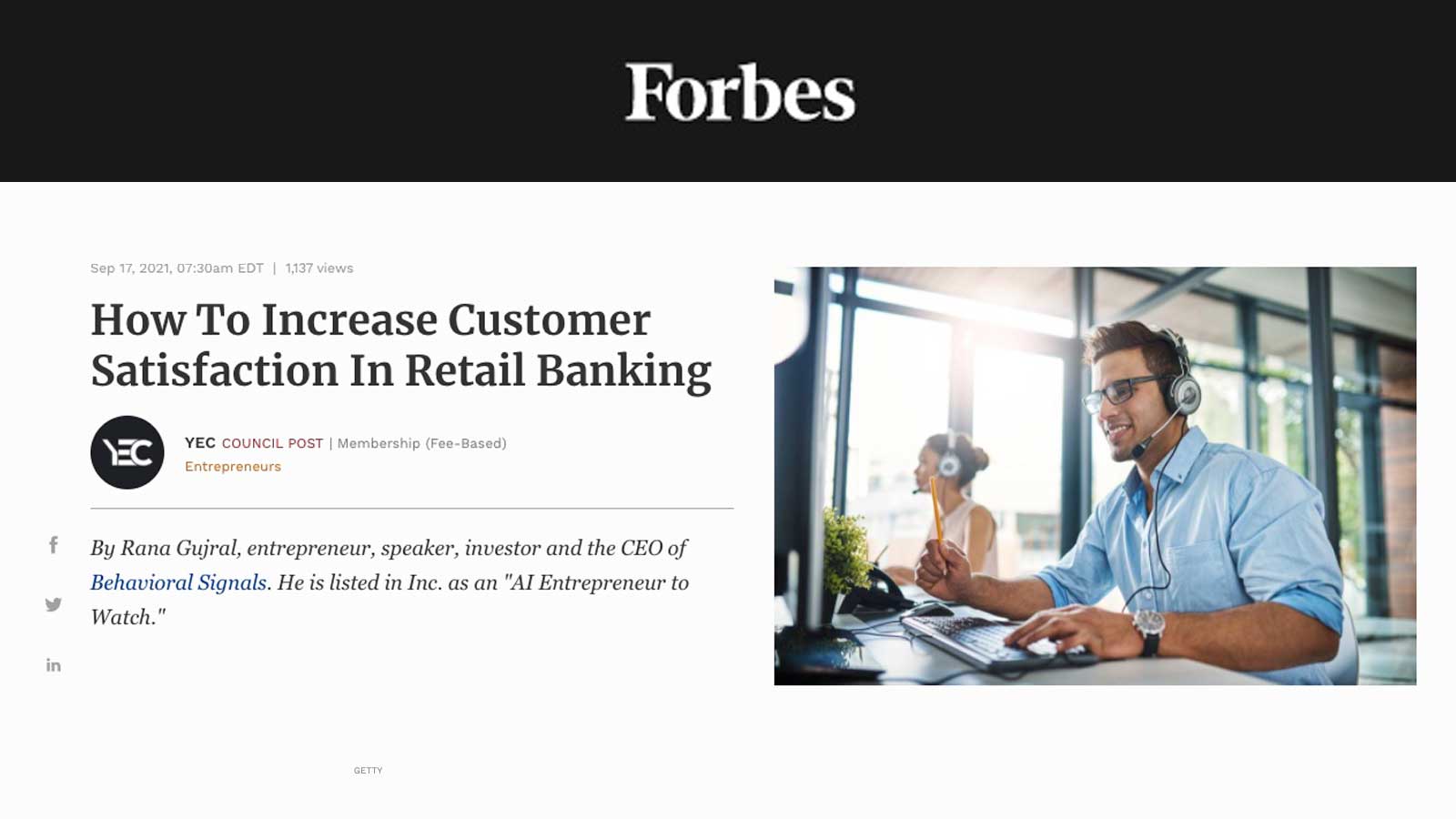 Forbes published an article by Rana Gujral, entrepreneur, speaker, investor, "AI Entrepreneur to Watch," according to Inc., and the CEO of Behavioral Signals on "How To Increase Customer Satisfaction In Retail Banking."
In today's increasingly competitive retail banking space, consumer financial institutions face a surge of pressure not only competing with each other but also from alternative service providers including credit unions, challenger banks and several mega technology companies.
Furthermore, a growing number of customers are looking for the "best deal" for banking services such as mortgage loans or credit cards and are placing more emphasis on excellent customer service, adding to the growing competitive pressure on retail banks.
In this fluid landscape, growing and improving customer satisfaction rates is critical and challenging. This research study exemplifies the strong positive correlation evidenced between customer satisfaction rates and higher levels of organic growth.
Higher customer satisfaction rates of course offer tangible benefits to retail banks and do in fact translate to a better looking bottom line through:
Increased sales: Satisfied customers are happy and express a favorable opinion toward the company. These customers are ripe to be convinced and very likely to actually make purchases of other bank products and services offerings. New customers need more work, quite literally, meaning that the company has to start the business relationship courtship from scratch.
Positive word-of-mouth and boosted customer acquisition rates: Happy, satisfied customers can not stop themselves from telling everyone about their amazing experiences. When done right, good customer care makes the person on the phone feel that the agent is offering them personal and special treatment, making customers even more inclined to keep spreading the word to their families and friends and posting about it on social media.
Why The Call Center Is Key To Customer Satisfaction
A study conducted by Deloitte presents how customers perceive call centers as the most important communication channel for personal banking services. More importantly, this study also revealed that customer experience in call centers affects customer satisfaction twice as much as other digital channels like virtual assistants.
Obviously, customers more often than not resort to calling centers, in the hope of speaking with a human representative to solve difficult problems that affect them the most and that can cause them the greatest damage. This situates the contact center as the first line of defense, perfectly positioned for banks and financial institutions to indeed provide excellent customer service, which will lead to increased customer satisfaction rates. As much as this strategy sounds brilliant, providing excellent customer service in the contact center is easier said than done.
Fortunately, various research studies have helped reveal the most important factors that impact customers' ratings of the contact center. First of all, customers want to get their issues or questions resolved in the first call quickly, and as simply as possible, by an individual who is knowledgeable and authorized with the power to solve them. Moving forward, customers rate contact centers higher when they interact with an agent who builds rapport with them and who forms a connection the customer perceives as genuine.
Read the full article on Forbes