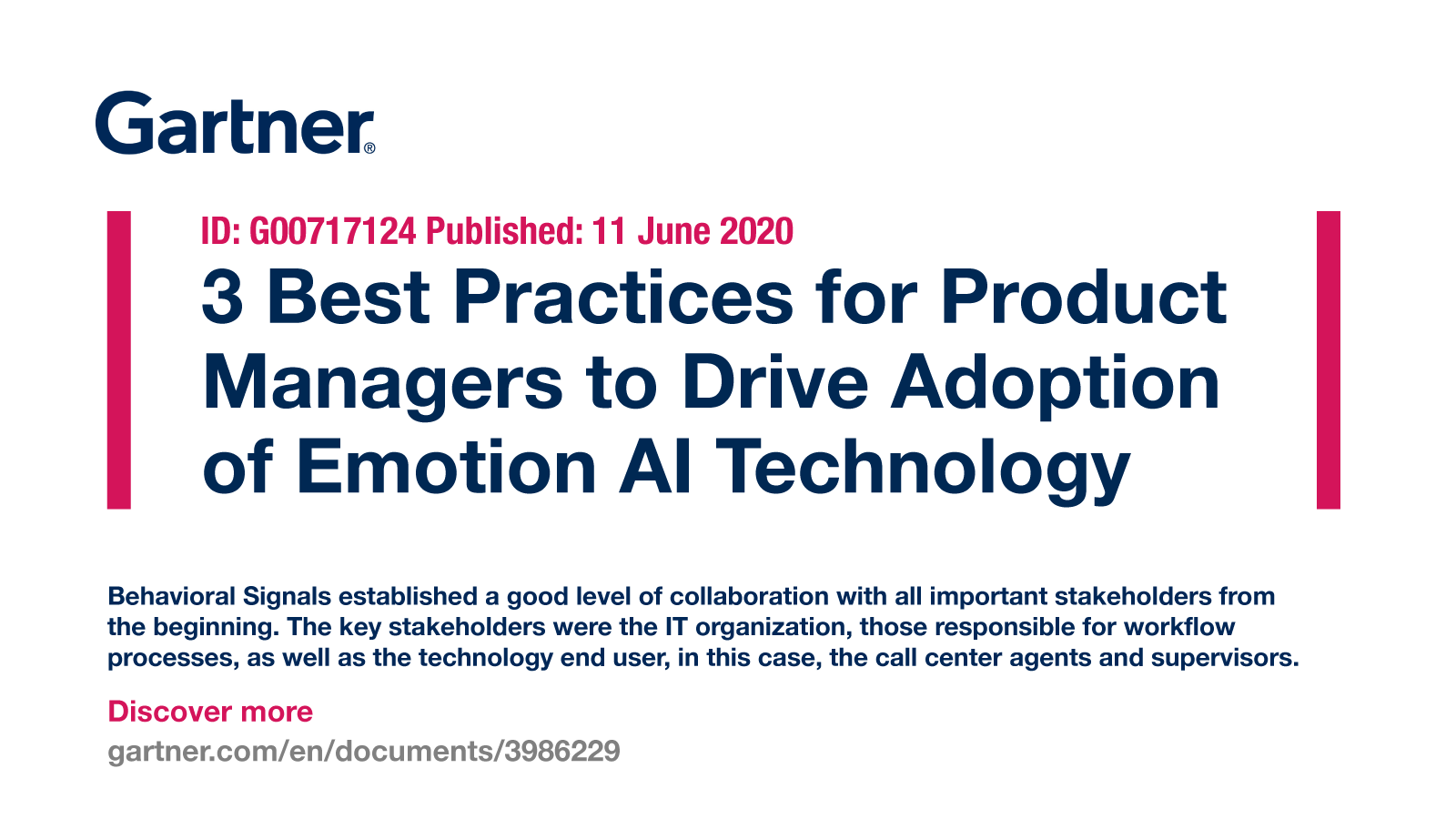 The Gartner report showcases a recent case study Behavioral Signals conducted with a European Νational Βank
---
The report, on the advancements in emotion AI technology implementation published by Gartner and titled 3 Best Practices for Product Managers to Drive Adoption of Emotion AI Technology (ID: G00717124), names Behavioral Signals as an emotion AI vendor in voice-based emotion analysis that deployed a commercial product that succeeded in performing robust results. Analysts Annette Zimmermann and Brian Doherty conducted the research which was published on June 11, 2020.
The report showcases a recent case study, Behavioral Signals conducted with a European national bank, as a commercial example that follows the 3 best practices product managers can implement to drive the adoption of emotion AI technology. The problem the European bank faced was the goal to recover and restructure as many non-performing loans as possible through its in-house call center. This would require their agents to perform a massive volume of calls with a high risk of limited return. As a solution, Behavioral Signals created a predictive model using conversational analytics and behavior traits to pair the customers with bank agents that best suited them in order to optimize effectiveness and achieve the desired result.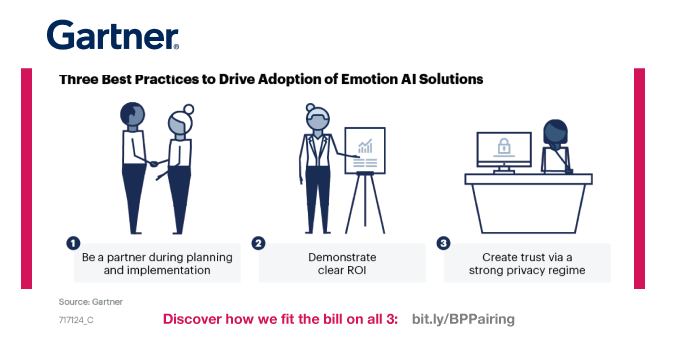 "The results from the live-data implementation are very exciting. They point to a 20% increase in active debt restructuring applications with 7.6% fewer calls," said Rana Gujral, CEO at Behavioral Signals. "In absolute numbers, these results correspond to approximately $7.5M USD of additional restructured debt over the course of this implementation which extrapolates into a $1.5M upside per agent per year or a total of $300M annual upside for the bank."
The ability for Behavioral Signals' AI to predict intent by distinguishing pitch and tonal variance from the audio instead of the actual words being spoken makes their data exceptionally rich and use-case applicable across industries. As a result, advanced use cases such as Behavioral Profile Pairing are possible without ever converting the audio to text. Not only does this novel approach provide for a much more accurate result set but in addition delivers enhanced privacy of the actual conversation. This ability to create customer profiles (which were subsequently matched with the right agent) solely on the basis of Voice analysis, without understanding the meaning of words, was an important factor that helped with the adoption of the technology at this financial institution. No other (sensitive) customer data, such as demographics and transactional data that is often used in this context, had to be mined for this purpose.
Click here to access the full Gartner report (Gartner subscription required).

About Behavioral Profile Pairing
The Behavioral Profile Pairing solution is based, as all of our solutions, on our emotion recognition engine and its ability to extract emotion and behavior insights directly from the audio, without the need for transcribing a call and analyzing the text transcription. Our focus is on analyzing the audio itself, a process called Behavioral Signal Processing, examining elements of prosody, such as frequency, pitch, and intonation, among others, to obtain these behavioral insights. Read more about BPP here.