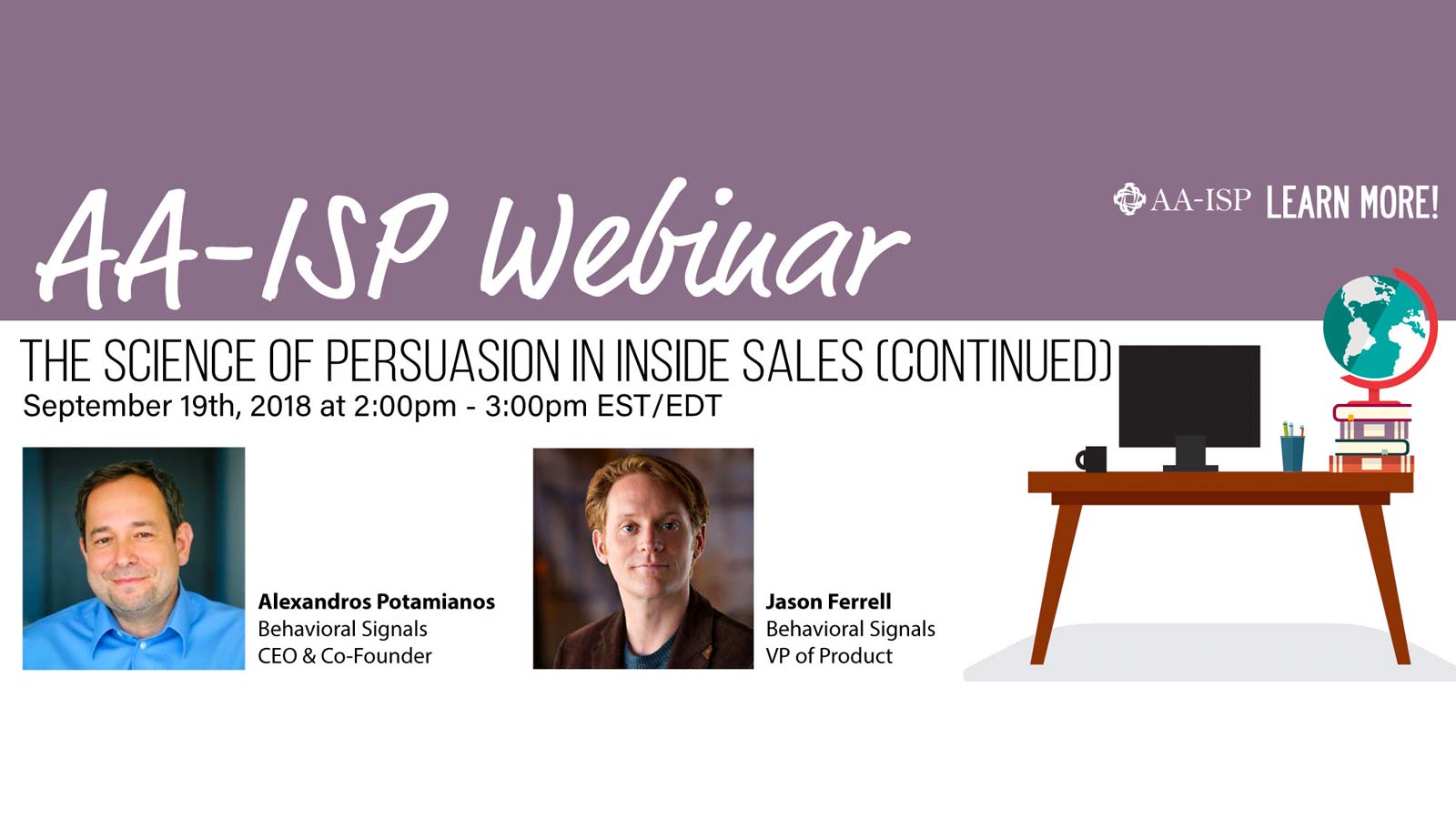 The American Association of Inside Sales Professionals and the Behavioral Signals team invite you to participate in our second webinar, discussing "The Science of Persuasion in Inside Sales (continued)". The webinar-which will take place on September 19th, 2018 at 2:00 pm – 3:00 pm EST/EDT- is free to attend online.
In the sales world, relationships hold the keys to any profitable deal; the ways we manage our own emotions and those of our clients control our ability to think clearly, act effectively and in the end, be successful. This is the reason why emotional intelligence is essential to modern sales professionals.
However, sales reps face a lot of challenges in developing and using their emotional intelligence, especially during sales calls.  Nonetheless, the advances in artificial intelligence give us the tools to get a deep understanding of ourselves and our customers. Using state-of-the-art AI technology, today's sales leaders can enhance the emotional intelligence of their client-facing team, boosting performance across the board.
Persuasion in inside sales: an ongoing prerequisite…
This webinar is a follow up on how emotional intelligence can help you predict specific behaviors, concluding the discussion from our first webinar, on the science of persuasion in inside sales. (Missed that one? No problem, you can find it at the AA-ISP website, here ).
On our first webinar, we discussed the importance of tone and the role of speech and emotion analytics. In this coming webinar, our CEO & Co-Founder, Alexandros Potamianos together with our VP of Product, Jason Ferrell, will dive deeper into how technology can be used for real-time insights that can help a salesperson close the deal.
Featured Speakers:
Alexandros Potamianos, CEO & Co-Founder, Behavioral Signals
Jason Ferrell, VP of Product, Behavioral Signals
By the end of this webinar, the audience will have learned:
How emotional intelligence can help you predict specific behaviors
How real-time behavioral insights from within a call can help you adapt the conversation to reach your KPIs
Why emotional and behavioral intelligence carries information way beyond basic call analytics
Don't miss the opportunity to learn how you can build up an augmented emotional intelligence in your sales team!
Missed the first webinar? Read the insights here.