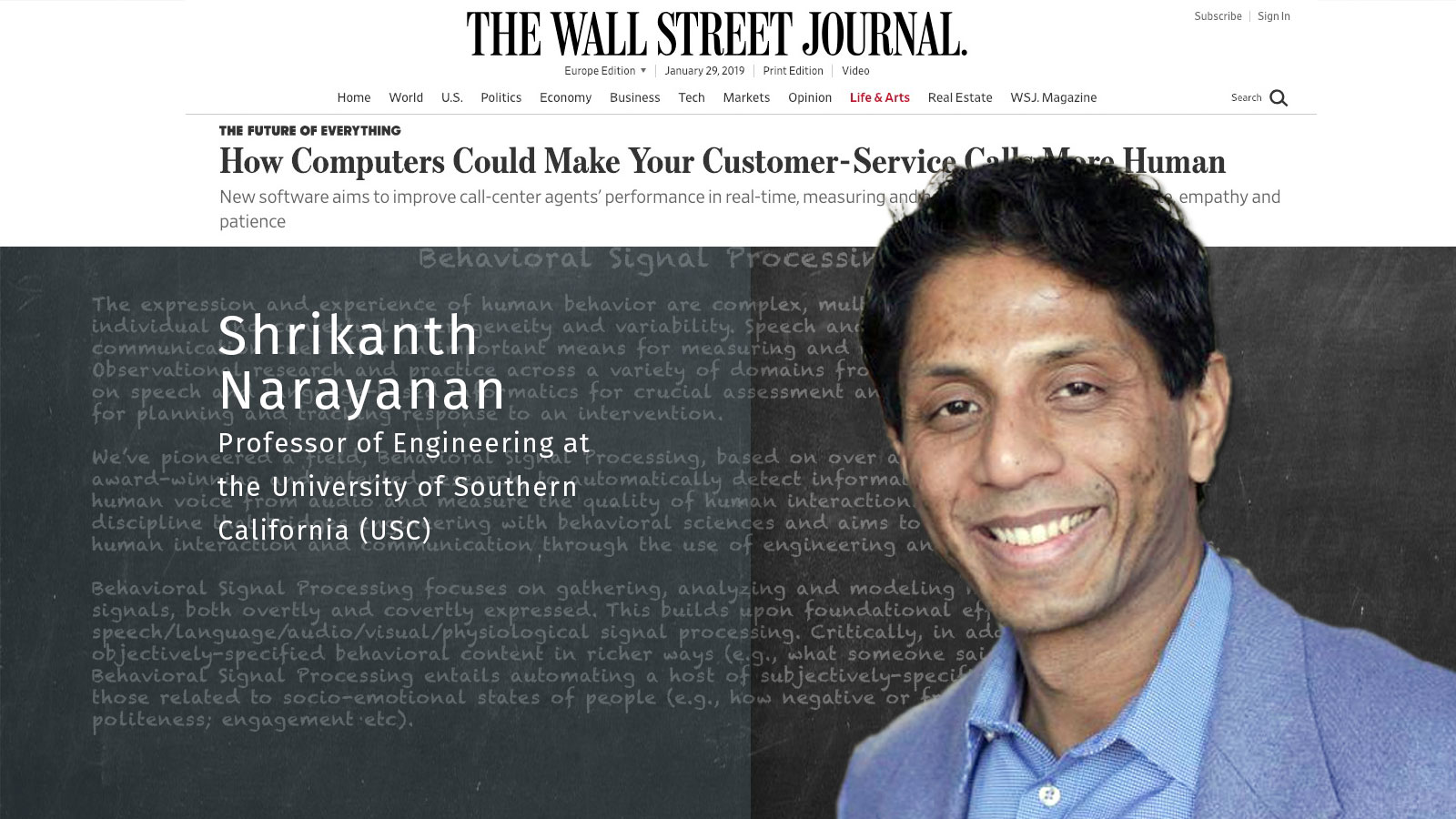 Can a computer program make humans more human in customer service? This is how Daniela Hernandez and Jennifer Strong start their article at Wall Street Journal on "How computers could make your customer service calls more human". Notably, the article describes how new software is humanizing customer service by improving call-center agents' performance in real-time, measuring skills like empathy. Our Chief Scientist and co-founder Shrikanth Narayanan was interviewed on his work at the University of Southern California in Los Angeles and our work here, at Behavioral Signals.
A prolific award-winning researcher, educator, and inventor
Shri is a true pioneer in human-centered information processing and communication technologies. His work is focusing especially on behavioral signal processing, our core technology and informatics. Behavioral Signal Processing focuses on gathering, analyzing and modeling multimodal behavior signals, both overtly and covertly expressed. Learn more on our patented technology on our website.
Giving value to customer interaction moment to moment
In the WSJ article, Shri talks about the "richness" hidden in every interaction. In particular, he says that the behavioral signals hidden in things like sighs and laughter provide valuable information on a person's age, gender, and background. The article brings up the subject of privacy, as there are concerns about companies listening in to conversations, analyzing data. On the matter, Shri comments that "we need to balance questions of privacy and trust with the benefits of a machine that can shed light on things humans may fail to pick up on without a face-to-face interaction."
At the end of the article, Shri wraps it up by adding that analyzing voice interactions is enormously challenging but also full of exciting possibilities! Check the whole article on Wall Street Journal, today!