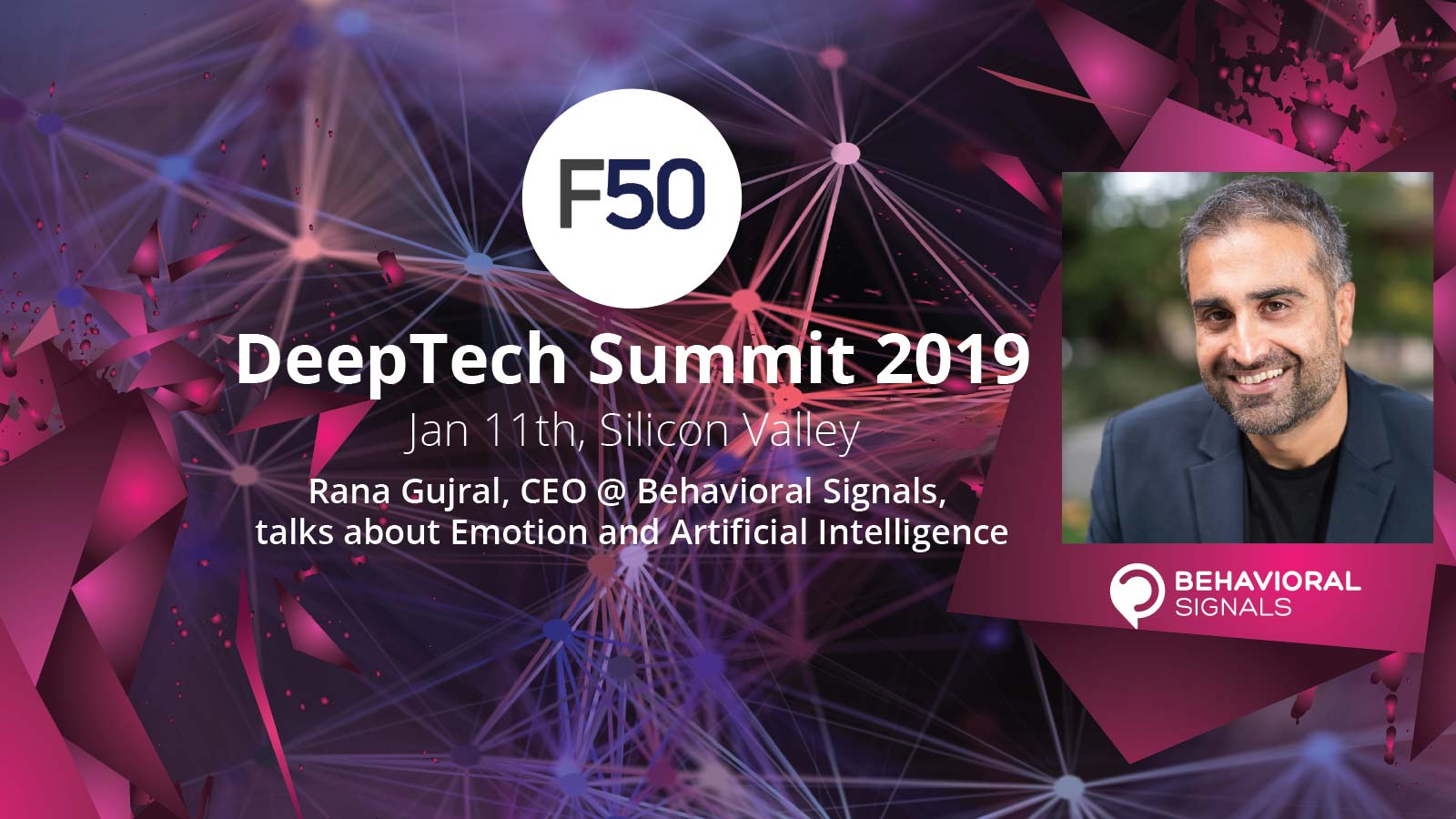 Behavioral Signals is starting the year off with exciting speaking opportunities! First, you can find our team at CES 2019 on January 8th in Las Vegas, NV. CES is the world's gathering place for all those who thrive on the business of consumer technologies.
Next up is the DeepTech Summit in San Francisco, CA on January 11th where our CEO, Rana Gujral, is a featured speaker. DTS is organized by F50, a venture platform that search for the most innovative companies and products. F50 connects them with corporate partners and investors. DTS also brings together over 50 tech communities and media partners from all over the world. Furthermore, it reaches over 100,000 companies and investors, and 200,000 startups worldwide.
Then, on January 12th, Rana is giving the opening keynote speech at the Imagine Talks 2019 in Oakland, CA. Come by and hear him discuss about the Entrepreneurial Mindset. The theme of the event is specifically focused on innovation, women empowerment and social impact. Other talks will be delivered by Emmy award-winning movie star and choreographer, James Lew, (Marvel's Luke Cage series), venture capitalist, Ernestine Fu (Forbes cover August 2011) and Rana's pal Jack McCauley, creator of Guitar Hero and Co-founder of Oculus.
Finally, January wraps up with a talk by our CEO at the 3rd Annual Global Artificial Intelligence Conference in Santa Clara, CA from January 23-25. This conference features many of the AI thought leaders from the industry and allows practitioners to discuss AI through effective use of various techniques. The title of Rana's speech is "How AI is becoming Emotional."
Are you attending these events? Let's meet up and discuss exciting partnership opportunities! Email us at social@behavioralsignals.com to arrange a quick meeting!
Follow us on Twitter and LinkedIn for live updates!
We look forward to more speaking opportunities for the Behavioral Signals' team in 2019. Happy New Year!!!