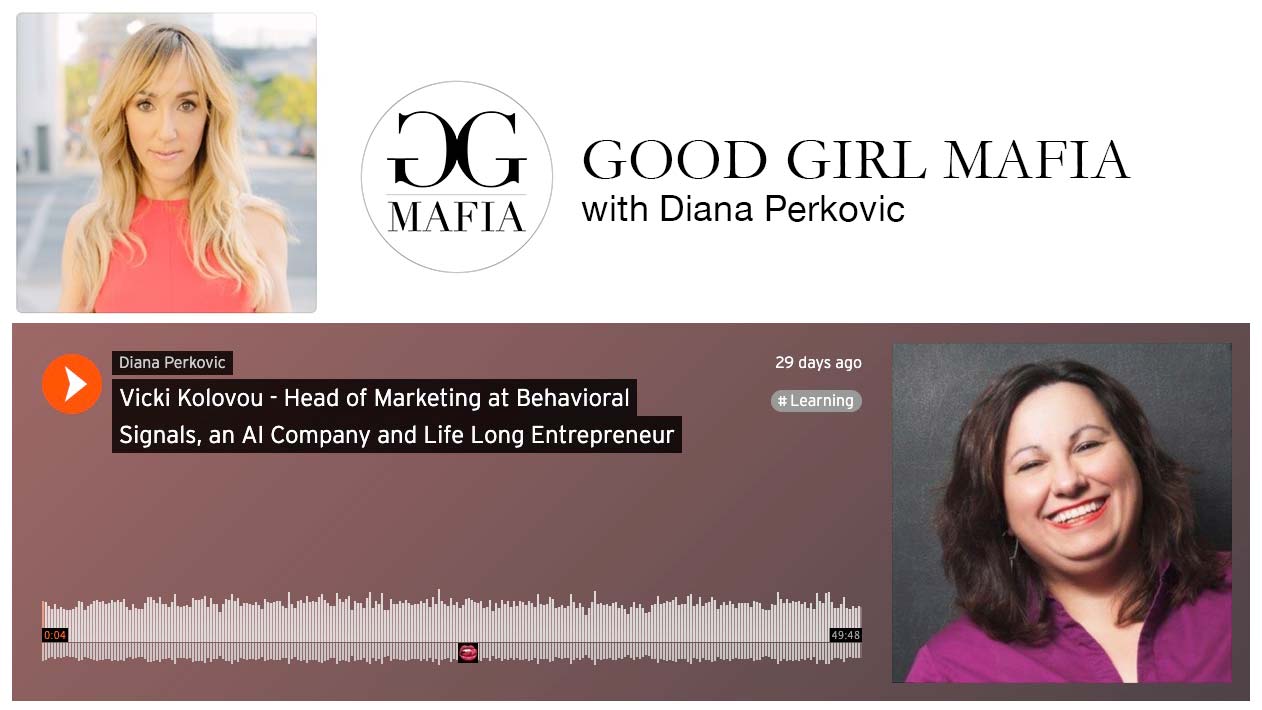 Vicki Kolovou, a life-long entrepreneur and Behavioral Signals' Head of Marketing had an interview with Diana Perkovic, founder of Good Girl Mafia, for her podcast, Monday Moments in 5. Diana was happy to announce that Vicki was her first guest ever from the world of Artificial Intelligence. So, feel free to enjoy Vicki with her cascading personality and impetuous mind, talking about entrepreneurship, life, and failure as a growth factor … and a little bit about artificial intelligence.
Episode description
Today's podcast is the first time we've ever had a guest from the world of Artificial Intelligence. Vicki Kolovou is the head of marketing at Behavioral Signals, an AI company. We'll be talking about artificial intelligence. She is also a life-long entrepreneur. She is the co-Founder & Producer at Tech Talks Central, a web radio platform that interviews technologists, scientists, and researchers, broadcasting live from within tech events. She has been active with startups, some of which she founded herself -like ermoumag – a fashion magazine, ermou.gr – street guide, Teez.me – a mobile retail platform, Taggzy, and iHeartShops, marketing IT tools for retail- and is a strong supporter of the startup ecosystem in Greece. As you can see, she is an accomplished and versatile woman, one who I thought was perfect for Good Girl Mafia.
Vicki is a connector and firm believer in serendipity. She believes strongly that you learn at every step of the developing process, even from failures. She will share her experience with failure, being a woman in the digital and artificial intelligence space, her best advice for facing fear and her take on women educating themselves.
# entrepreneurship #AI