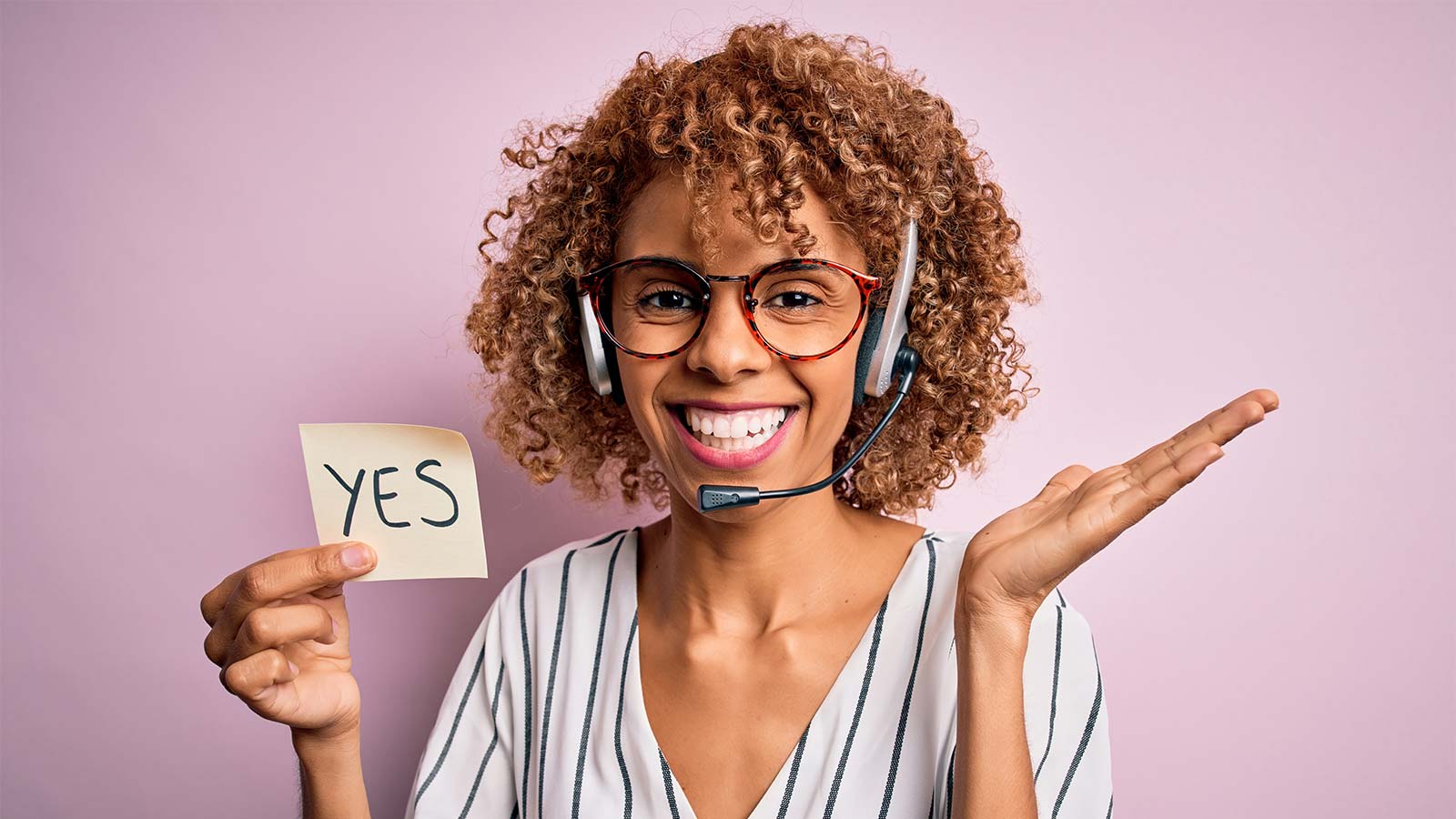 Matching agents with customers allows you to vastly improve the quality of the connection between customers and your customer service staff. Instead of continuously trying to create a perfect team of customer service agents who can handle anything the day throws at them, AI-Mediated Conversations technology (ie. behavioral pairing or agent-customer matching or call routing AI) leverages emotion AI to better understand the expectations and emotional state of a customer before they even speak to an agent.
Combined with a profile of that customer's behavior, activity, and language from previous calls, the routing system pairs each customer with an agent who has the specific skills – both technical and soft – to handle their concerns.
This does several things. First, it expedites the resolution of customer complaints. One of the most common issues customers have on the phone is how long it takes just to connect with someone who understands the issue. 40% of customers want reps to resolve their issues faster, and customers are up to four times more likely to switch to a competitor if they have service-related problems. Bouncing from agent to agent, repeating the same questions over and over again can create a volatile situation where there wasn't one to start. Second, it matches the specific skills of your customer service agents – as measured by the emotion AI and performance metrics – to customers with those needs.
The end result is not just a faster resolution and smarter customer, but a better overall experience for your customer service agent as well. This can help reduce turnover, improve productivity, and generally lead to better business results.
The Role of AI-Mediated Conversations
AI-Mediated Conversations(AI-MC), also known as agent-customer matching or call routing AI, recognizes that at the core of all customer interactions is a very human element. How we interact with one another. The way we answer questions. The underlying emotion that develops based on the response and reaction of the person with whom we are having a conversation. These elements are all part of a much larger component that, until recently, was nearly impossible to quantify.
Using AI, we can now make those connections and ensure the right person is on the phone at the right time when a customer complaint comes in. To do this, technology evaluates several factors, including:
The strengths and weaknesses of the customer service agent
The need and emotional condition of the customer when they call
The historical context of this customer's complaints and concerns
The current emotional state of the agent before the call begins
By constantly combining and evaluating these pieces of information, the AI system can make connections between agents and customers in real-time, reducing the risk of an angry customer and the need for an intervention.
The technology captures this information from historical data related to the calls of both customers and agents, including talking style, positivity, emotional charge, and other elements of their voice and the outcome of those calls. A profile is developed for each customer mapping this behavior and identifying what can be done to influence their behavior moving forward. These are all updated in real-time as calls occur, ensuring the matches are always as accurate as possible.
The system can evaluate the specific words used by a customer, the ways in which they use them, and the current personality profile they fit as a result. This can mean one of two things – both how they like to communicate, and how they are feeling on that particular call. It also helps to better identify the best ways to address their stress levels and de-escalate a situation before it can turn into a larger issue.
The Benefits of Agent Customer Matching for Your Business
The immediate benefits of such a system are clear. Happier agents. Happier customers. Better business performance. But there are several specific use cases already showing how such a significant improvement in the customer-agent relationship can benefit a business.
This manifests in:
Improved CSAT and NPS Scores – When a conversation goes well, even if the customer started angrily, it could sway their ultimate customer satisfaction rating. This personalized, unique attention ensures better results and a strong reaction without as many angry hangups or poor NPS ratings.
Less Agent Attrition – Employee engagement is a major issue for most organizations. The cost of turnover and attrition of a valuable resource like your customer service team is high, requiring new training and constant replacement of valued employees. By providing better tools to employees, you can improve their day-to-day performance, reduce the burden of their jobs, and keep them on board for longer.
Improved Brand Reputation – When your customers are happy, they say nice things to others. That means fewer complaints on Twitter and Facebook, more positive word of mouth(WOM) and an increase in business. An angry customer will share their experience with an average of 15 people. A happy one with an average of 11 people. That's a huge shift in the impact a single customer can have just by closing off and improving their service experience.
In one Behavioral Signals' case study, involving a financial institution's call center, agent-customer matching (AI-MC) was used to route 7500 thousand calls between two teams; the first using call routing AI and the second team being assigned calls randomly (A/B testing). The results were astounding for the first team with a 29.2% increase in actual debt restructuring applications, which amounted to $2.2 million in restructured debt for the month of January 2020. The outcome impressed the senior executives so much that one noted "It's impressive! While walking around at the call-center, one can immediately tell the difference between these agents – team with call routing AI- and the others: the level of tension in their interactions is considerably lower".
This rapid improvement can have an outsized impact on a call center's performance and morale, leading a better overall experience for everyone involved.
The Future of a Smarter Customer-Agent Relationship
According to American Express, 90% of Americans use customer services as a key factor in determining if they will do business with a company or not. Combined with the heavy cost of landing new customers versus keeping the ones you already have, businesses are investing heavily in a smarter, more responsive customer service platform, and it starts with AI.
By building brand loyalty, reducing the time and friction to resolve a key issue, and improving the performance of your company's front line with customers, you can create value, build trust with the public and grow your company more effectively.